Ever wonder what kind of dogs to get, when you don't have that much space on your house-apartment?
Best dogs are the miniature schnauzers they are small, sturdily built, little dog.  The miniature schnauzers are intelligent, loving, happy dog.  They are energetic, playful and get along well with children and like to be with their people.  They are very loyal, affectionate, keen, devoted, and docile.  This is an easy dog to keep in the house because they don't shed hair, which makes it easier to keep your small apartment/house clean. So, that means less work for you.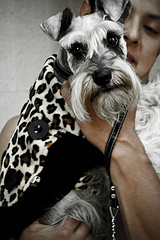 Another great dog for a small place is miniature Pinscher is also known as the "King of the Toy Dogs.  The miniature Pinscher also tends to have very long legs, and small body, which can sometimes make it look quite comical. As a result of the flexible, agile body of a Miniature Pinscher, they are able to curl up in almost any position and almost always be comfortable. They are loving dogs, very affectionate and a working breed.  So, if you need to go out of town and would like to take your miniature Pinscher, they are easy to travel with.