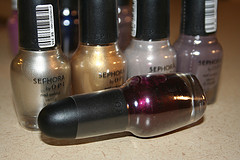 Grab the BEST of fashion this Fall of 2010 and get acquainted with the HOT nail polish colors during this season. Fall is here and this is the time to put away those bright, summery nail polishes colors and start brushing on darker tones.   The colors that are very inspiring are Dark brown, Black Velvet, Gold, Lame dark red and Orange, but let's not forget about the new Neutral Grey.  It will look fabulous on your nails.  The colors around us can change our moods; make us more or less active, productive, amorous, and glamorous.  Don't fall back and dress up your nails with terrific variety colors this fall.
Dark Brown– Also known as dark chocolate, perfect style for winter season, looks classy for work or school.
Black Velvet Sensational colors that will make you feel powerful, alert and sharp.  This is the time to show your true emotions!
Gold Shade has just enough sparkle to make your hands catch the light, this hue looks adorable against some of the plums and emerald greens we've been seeing heading down the runways!
Lame dark red– Wear this red when you want to make a power play or close a deal (The late Prime Minister Trudeau always wore a red rose in his lapel to signify his power and to remind him to stay with it.
Orange– This earthy tone is excellent when you want folks to feel comfortable around you.
Neutral Grey– So catchy! no matter where you are and what you wear is the perfect neutral for fall.  I think is quite flattering for all skin tones and might be the great choice for a warm-toned person.